Property or stocks: Which performs best?
Have you ever asked yourself if you should invest your savings in property or in the stock market?
In this article, we compare past performance of investments in stocks versus investments in property. Let's go!
Stocks: Highly volatile but long term growth
The ASX 200 has now recovered most of the covid-19 fall. Since January 2016, it has increased by 41% from 5000 pts to 7000 pts. This means an investor who invested $100,000 in January 2016 and sold in 2021 made a $41,000 profit.
In comparison, the Dow Jones grew by 89%, S&P 500 by 105% and DAX by 56%.
Chart 4: ASX 200 evolution since January 2019
Property: Capital growth and rental yields
Property prices have increased unevenly in Australia over the past few years, requiring investors to carefully select the suburbs they invest in. We have analysed the price increases and rental yields in a few selected areas along the coast of Victoria, New South Wales and Queensland.
In these areas, price growth was on average 3.3% per year and rental yields 3.9%. This means the total average gross return for perty in these areas was 7.2% per year.
Price growth (2016-2020) and rental yield per suburb (source: Domain)
Past performance: Property vs stocks
When looking at the profitability of a property investment, it is important to compare it to the initial deposit and not the total property value. For example, a $100,000 profit on a 1 million dollar property is effectively a 50% gain on a deposit of $200,000.
Taking this leverage into account as well as the cost of purchasing, managing and selling a property, it appears that an investor who invested $200,000 in 2016 and sold in 2020 made a $385,000 net profit in Noosaville, $243,000 in Newcastle, $90,000 in Bondi and $60,000 in St Kilda.
This is on average higher than what investors made on the DAX ($77,000) and ASX ($56,000). Only the Dow Jones outperformed some of these property markets ($154,000).
Past performance (2016-2020): 4-year profit from property investment vs stock market investment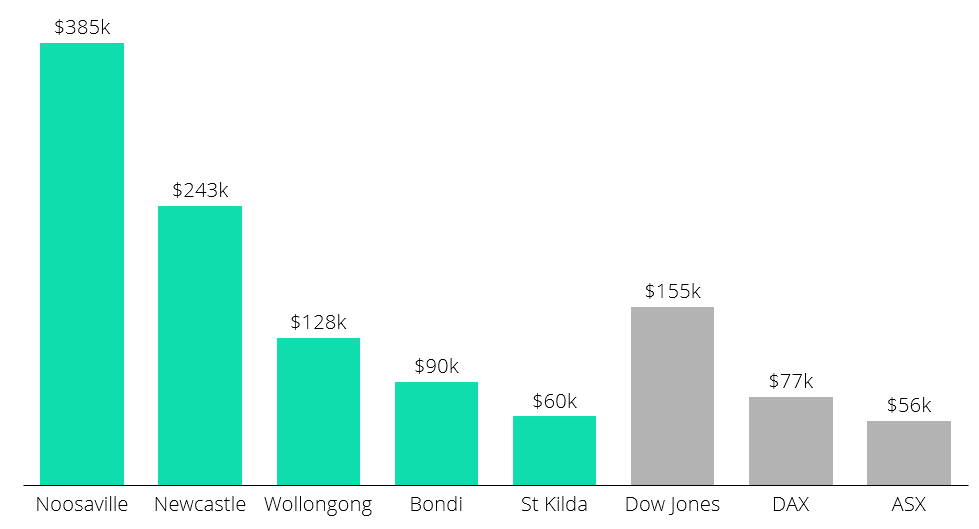 Summary
Both property investments and stocks have performed well over the past 4 years. When looking at data, it appears investors who carefully chose the suburbs to invest in managed to get higher returns than the stock market.
Thinking about investing in property? Contact us! Our team of property investment experts are here to help!
Disclaimer
The information on this website is for general information purposes only. It is not intended as legal, financial or investment advice and should not be construed or relied on as such. Before making any commitment of a legal or financial nature you should seek advice from a qualified and registered legal practitioner or financial or investment adviser. No material contained within this website should be construed or relied upon as providing recommendations in relation to any legal or financial product. PropHero does not recommend or endorse products and does not receive remuneration based upon investment or other decisions by our email recipients, publications, newsletter or website users.