Property Investment: Is Queensland the New Eldorado?
You are thinking about investing in Queensland but you are not sure where to start? This article is for you!
We will show you concrete facts to help you understand current trends in prices and rents. Let's go!
Areas covered in this article
In this article we have analysed 12 suburbs across the Brisbane region.
Price boom?
Queensland has experienced a property price boom over the past 12 months, in particular within prime coastal locations such as Noosa (+15%), Sandgate (+13%) and Wynnum (+8%).
Even suburbs located further from the coast and the CBD such as Everton Park (7%), Brassal (5%) and Forest Lake (3%) have experienced a strong growth, although not as fast as other regions.
Chart 1: Price growth % for 4-bedroom house over the past 12 months (source: PropertyValue, April 2021)
Highest performing suburbs
Before the boom observed over the past few months, 6 suburbs had shown superior total returns: Noosaville, Sandgate, The Gap, Margate, Brassal and Kallangur. These suburbs offered a healthy mix of capital growth and rental yields above 3%.
On the contrary, suburbs closer to the CBD such as Bulimba (1%) and Greenslope (2%) experienced the slowest price growth in the region.
Chart 2: Rental yield and price growth per suburb (2016-2020) (source: Domain)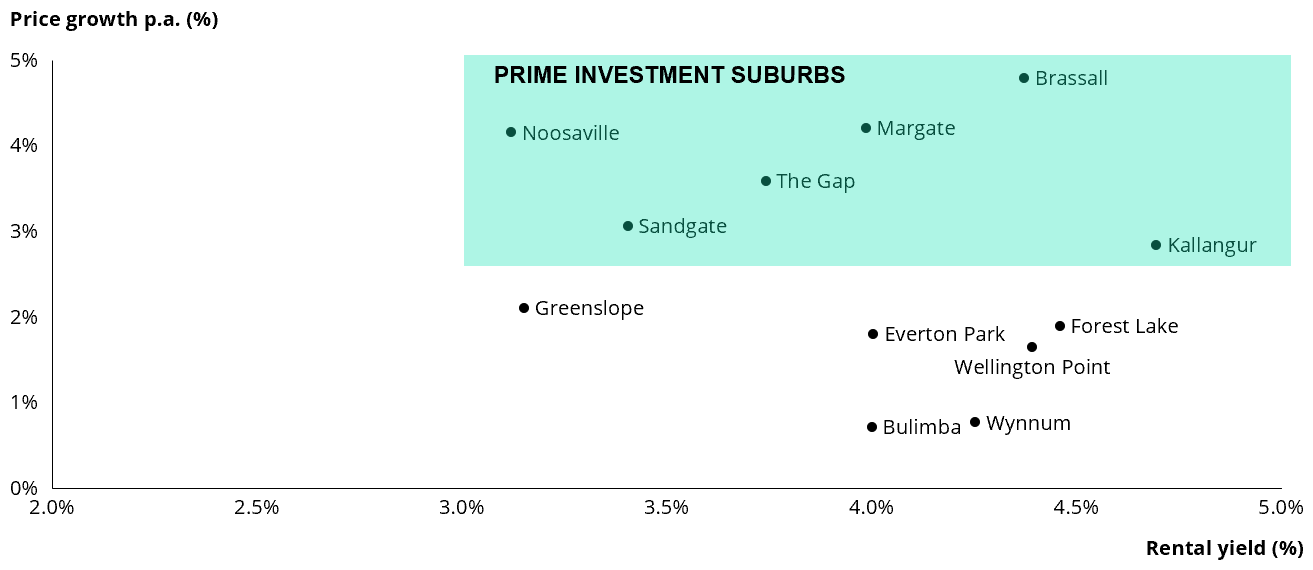 What type of property should I buy?
Though performance varies significantly from one suburb to the other, units typically have higher rental yields (4-5%), while house prices are growing faster (1-4% per annum).
Investors looking at getting positive cash flows are thus focusing on 2-bedroom units, while investors ready to accept neutral to negative cash flows each month and looking at long term capital growth turn to 3- and 4-bedroom houses.
Chart 3: Price growth (2016-20) per property type (source: Domain)
Chart 4: Rental yield per property type (source: Domain)
How much could I make?
If you had put a $150,000 deposit for a property in Brassal in 2016 and sold it today, you could have made on average a $209,000 net profit (taking into account stamp duty, acquisition and selling costs and rental management expenses). This represents a 139% gain on the deposit paid in just 4 years.
Similarly, investing $150,000 in Margate would have brought a $172,000 profit (115% gain), Kallangur $143,000 (95%), Sandgate $109,000 (73%) and Wellington Point $88,000 (59%).
In general, best investments were made either in prime coastal areas or in suburbs outside the CBD with good public transport.
In comparison, investing in the ASX in 2016 would have given you a $37,000 profit.
Graph 5: Average net profit for an investor who invested $150,000 in 2016 and sold today (source: Domain, ASX)
Summary
Queensland property market has been very strong over the past four years, and has even experienced a price boom over the past 12 months.
Prime coastal areas and areas outside the CBD with good public transport have outperformed in terms of total return. In terms of property types, units tend to show greater gross rental yields while houses tend to see greater capital gains.
Finally, it is important to note that performance has been very uneven across these suburbs, and investors should be cautious when deciding where to invest.
Thinking about investing in property? Contact us! Our team of property investment experts are here to help!
Disclaimer
The information on this website is for general information purposes only. It is not intended as legal, financial or investment advice and should not be construed or relied on as such. Before making any commitment of a legal or financial nature you should seek advice from a qualified and registered legal practitioner or financial or investment adviser. No material contained within this website should be construed or relied upon as providing recommendations in relation to any legal or financial product. PropHero does not recommend or endorse products and does not receive remuneration based upon investment or other decisions by our email recipients, publications, newsletter or website users.