How can I retire early by investing in property?
We've all thought about it: Let's invest in property and retire early on the rental income.
But how does it work in real life? What does it take to retire early and what is the path to get there? In this article, we explain what it takes to get there and a good strategy to retire early.
How much do I need to retire early?
This question is obviously personal, and we will let you answer it for yourself. In this article, we assume an annual net rental income of $100,000.
This income is after rental expenses and assumes you have fully paid your loans. Rental expenses can account for 30% of the gross rental income. This means that in order to get $100,000 of net rental income, you actually need a total rental income of $150,000.
How many properties do I need to own?
Most investors invest in a diversified portfolio in order to reduce their overall risk. Concretely this means investing in different types of properties in different locations rather than in one expensive property. Moreover, rental yields tend to be higher for smaller houses and units, which is another reason to look for diversification.
If we assume that your average rent per property will be $600 per week, this means you need to own 5 properties to retire early with a net rental income of $100,000 per year.
In terms of value, getting a $100,000 net rental income will mean that you will need your net wealth to be worth $3.5M.
What is the best strategy to retire early?
All right, so we've figured that you needed to own a portfolio worth $3.5M (net of debt) to be able to retire early. Let's now assume that you buy 1 property every 3 years until you get 5 properties, and let's assume each property is worth on average $600,000.
Here is what your portfolio could be worth over time, assuming prices in the suburbs you invested in increase by an average of 3.5% per year.
Portfolio value over time ($M)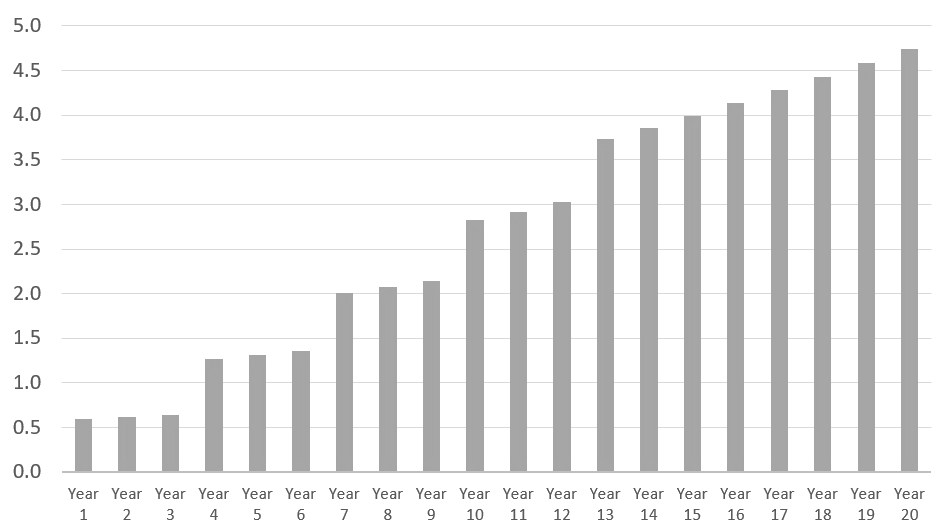 In this scenario, your portfolio will be worth $4.7M after 20 years.
Now let's look at your total debt. In this scenario we assume you pay a 20% deposit on each property and pay your loans over 30 years.
Debt over time ($M)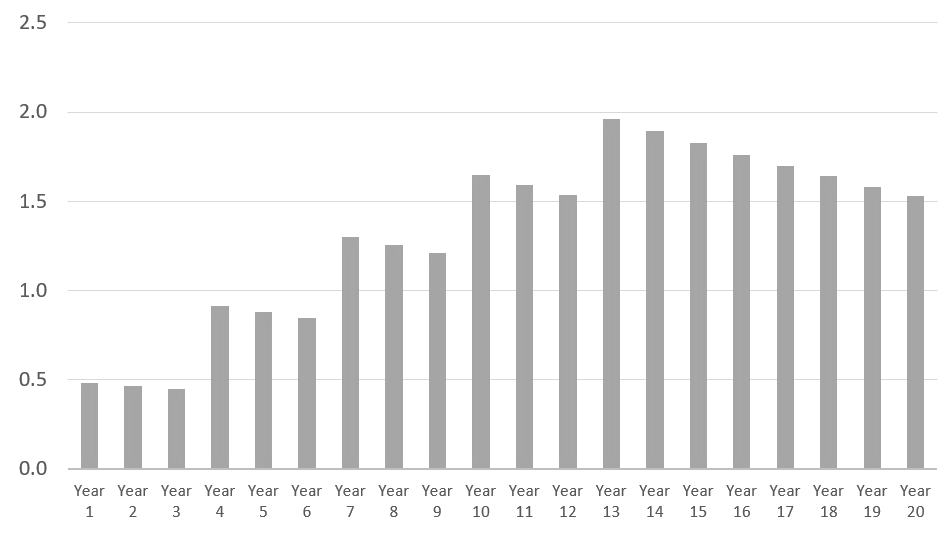 As you can see in the chart above, your debt after 20 years is still worth $1.5M.
Let's now look at your total net wealth over time, taking into account capital gains (assumed to be worth 3.5% per year on average) and net rental yield (assumed to be worth 2.5% after rental expenses and interest costs).
Your net accumulated wealth ($M)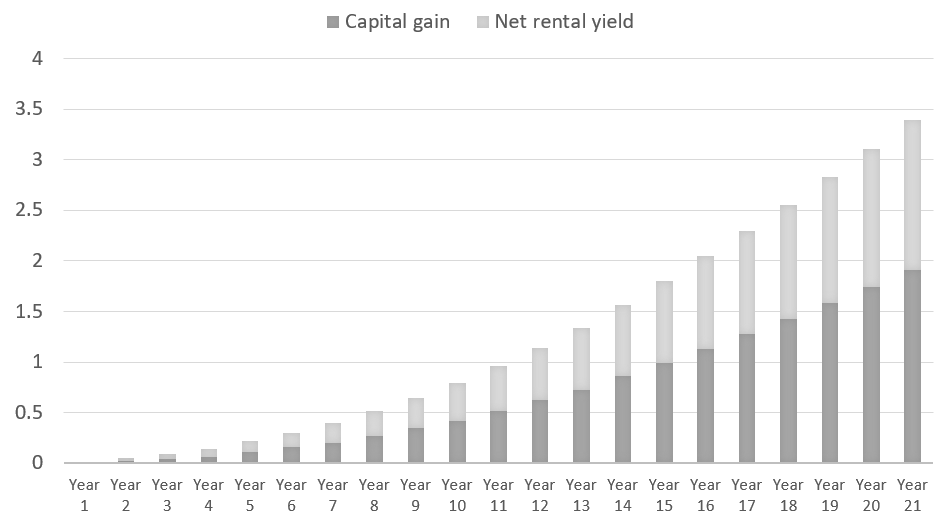 In this scenario it will take you 21 years to get a net wealth of $3.5M and be able to retire.
The importance of making the RIGHT investment decisions
In the previous scenario with 5 properties bought, 3.5% capital gain per year and 2.5% net rental yield, it would take you 21 years to be able to retire. Let's look at other scenarios.
Number of years required to be able to retire early
In the top scenario, you still bought 5 properties but managed to get both strong capital gains (4% per year) and high rental yield (5% per year). This allowed you to retire after 18 years.
On the contrary, in the bad scenario, the area you invested in only grew by 1% per year, driven by over-supply from new developments and lack of scarcity for the type of property you bought. Moreover, the promised rental yield in the area ended up being low due to high management and repair costs. In this scenario, it takes you more than 50 years to be able to retire.
Conclusion
As you can see in these examples, chosing the right properties is critical in order to build your wealth and be able to retire early. When looking at investment property, it is important to understand both potential capital gains and net rental yield.
Thinking about investing in property? Contact us! Our team of property investment experts are here to help!
Disclaimer
The information on this website is for general information purposes only. It is not intended as legal, financial or investment advice and should not be construed or relied on as such. Before making any commitment of a legal or financial nature you should seek advice from a qualified and registered legal practitioner or financial or investment adviser. No material contained within this website should be construed or relied upon as providing recommendations in relation to any legal or financial product. PropHero does not recommend or endorse products and does not receive remuneration based upon investment or other decisions by our email recipients, publications, newsletter or website users.