Bondi to Wollongong: The Ultimate Investment Guide
You are thinking about investing in Sydney's Eastern Suburbs or near Wollongong but you are not sure where to start? This article is for you!
We will show you concrete facts to help you understand current trends in prices and rents. Let's go!
Areas covered in this article
We have analysed 26 suburbs across Sydney's Eastern Suburbs and the North Wollongong region.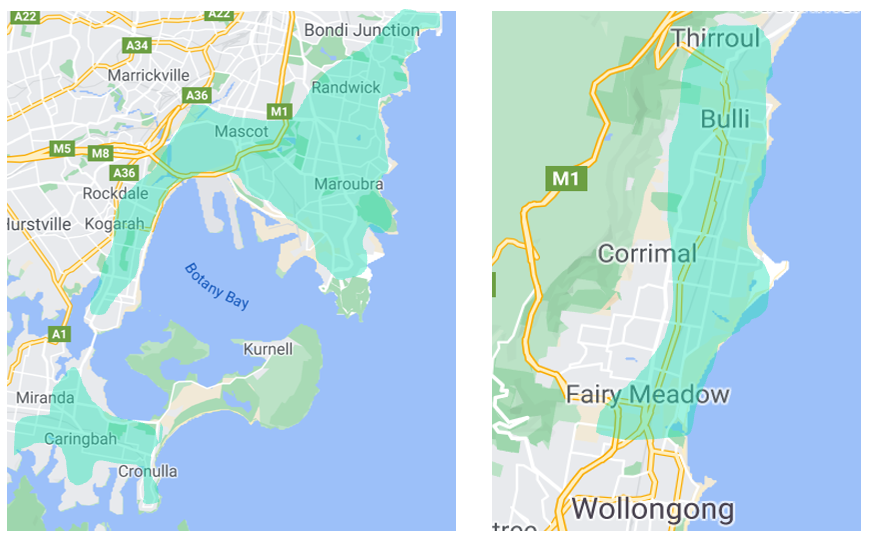 Price boom?
NSW has experienced a property price boom over the past 12 months, in particular within prime coastal locations and near Wollongong.
Areas such as Gymea Bay, Bellevue Hill and Thirroul have all seen price increase by more than 15% over the past year. Prime coastal locations such as Bondi (+9.5%), Clovelly (+9.5%), Maroubra (+6.9%) and Coogee (+3.5%) have also observed significant growth.
On the contrary, less sought-after areas, especially near Sydney Airport have seen a stagnation in prices or even a
Highest performing suburbs
Before the boom observed over the past few months, 10 suburbs had shown total returns over 5.7% p.a. over the past 4 years. Greatest returns observed in the Wollongong area and in prime coastal locations.
Suburbs showing the greatest mix of rental yield and capital growth are: Fairy Meadow, Wollongong, Thirroul, North Bondi, Bellevue Hill, Bondi Junction, Coogee, Cronulla, Maroubra and Bondi Beach.
On the contrary, a few suburbs have underperformed: Blakehurst, Clovelly, Bronte, Carlton, Sans souci and Brighton-le-sands.
Chart 2: Rental yield and price growth per suburb (2016-2020) (source: Domain)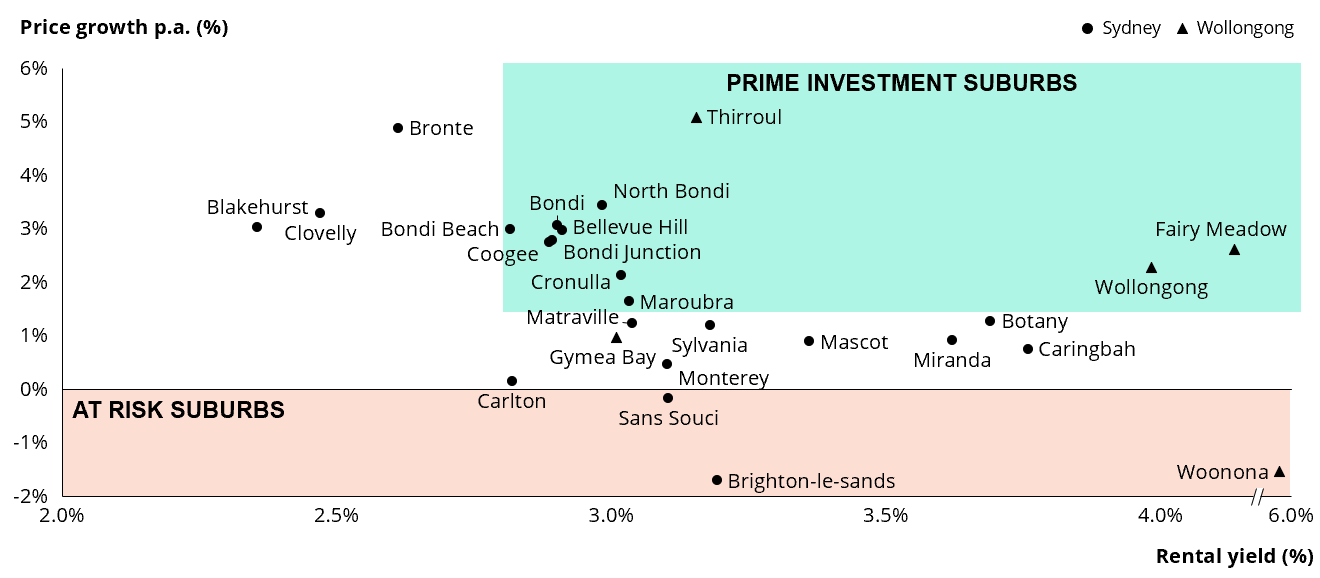 What type of property should I buy?
Units typically have higher rental yields (3-4%), while house prices are growing faster (3-5% per annum).
Investors looking at getting positive or neutral cash flows are thus focusing on 1- and 2-bedroom units, while investors ready to accept a $1,000-1,500 negative cash flow each month and looking at long term capital growth turn to 3- and 4-bedroom houses.
Chart 3: Price growth (2016-20) per property type (source: Domain)
Chart 4: Rental yield per property type (source: Domain)
How much could I make?
If you had put a $150,000 deposit for a unit in Fairy Meadow in 2016 and sold it today, you would have made on average a $170,000 net profit (taking into account stamp duty, acquisition and selling costs and rental management expenses). This represents a 115% gain on the deposit paid in just 4 years.
Similarly, investing $150,000 in Coogee would have brought a $77,000 profit (51% gain), Bondi $67,000 (45%), Cronulla $57,000 (38%) and Maroubra $44,000 (30%).
In comparison, investing in the ASX in 2016 would have given you a $37,000 profit.
Graph 5: Average net profit for an investor who invested $150,000 in 2016 and sold today (source: Domain, ASX)
Which areas have the highest potential?
Maroubra, Cronulla and Bellevue Hill still sell at a 20-35% discount vs other areas in the Eastern Suburbs. These areas are attractive for investors looking for capital gains as they are close enough to the city, have good public transport options and all ammenities and services tenants are looking for.
Other suburbs further south such as Carlton, Miranda, Caringbah also sell at a significant discounts, though are perceived as less 'prime' to capital growth investors.
Graph 6: Average price for a 2-Bedroom unit (source: Domain)
Summary
Coastal areas in the areas of the Eastern Suburbs can be an attractive investment opportunity for investors looking at getting a mix of rental yield and capital growth potential.
Suburbs in the northern Wollongong area such as Thirroul, Woonona and Fairy Meadow are showing the highest profitability with rental yields between 3% and 6% and strong capital growth (3-6% p.a.).
Prime coastal locations such as Bondi, Coogee and Bellevue Hill have also outperformed the market.
Investors looking at maximising rental yields and cash flows could invest in units, especially in the north Wollongong and south Sydney areas, while investors prioritising potential capital gains could look for 3- and 4-bedroom houses in prime coastal areas.
All in all, investors who invested 4 years ago in property in the Eastern Suburbs significantly outperformed the stock market in terms of average net profit.
Thinking about investing in property? Contact us! Our team of property investment experts are here to help!
Disclaimer
The information on this website is for general information purposes only. It is not intended as legal, financial or investment advice and should not be construed or relied on as such. Before making any commitment of a legal or financial nature you should seek advice from a qualified and registered legal practitioner or financial or investment adviser. No material contained within this website should be construed or relied upon as providing recommendations in relation to any legal or financial product. Propeasy does not recommend or endorse products and does not receive remuneration based upon investment or other decisions by our email recipients, publications, newsletter or website users.